JMA Group's Mission:
"NORITSU" for a better society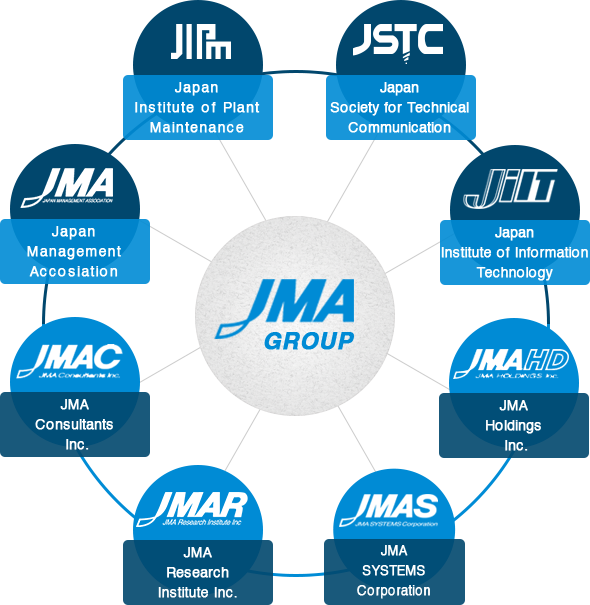 Incorporated associations & companies
JMA Group, formed by Japan Management Association (JMA) and 8 other business bodies which were originally functions inside JMA and later evolved independently from JMA, has been a promoter of management innovation for 75 years in Japan.
Aiming at creating management innovation and development of society, more than 2,000 experts working with the JMA Group have devoted much effort to executing management-related consulting, research and study, IT software development, publishing books including business planner notebooks and management training.

NOTE: The Japanese word "NORITSU" in this case refers specifically to Scientific Management which is designed to optimize the use of the competence of individuals, the full capacity of equipment and technology, and the functionality of materials.
---


JMA Consultants Inc. (JMAC)
Management consulting, management diagnosis, performance training, consulting, seminar and lecturer dispatch relating to TPM activities, distance learning, publishing and image educational materials oriented to manufacturing business

Japan Society for Technical Communication (JSTC)
Technical English diffusion activities, English Technical Writing Tests (sponsored by the Ministry of Education, Culture, Sports and Science)

JMA Research Institute Inc. (JMAR)
Commissioned surveying and research by administrative offices and private enterprises, membership business information provision services (MDB), etc.

Japan Institute of Information Technology (JiIT)
Surveys and research about enterprise computerization, dissemination review activities Japan

JMA Systems Corporation (JMAS)
System integration, software development and introduction, infrastructure and network building, introduction and development of smart devices oriented to corporations

JMA Holdings Inc. (JMA-HD)
Oversees the overall business and promotes business of JMA Holdings Group