Exhibit Booth and Exhibit Zone
(Category Zone Exhibitor)
Booth and Exhibit ZoneCategory Zone Exhibitor
Category Zone Exhibitor
Apply for your booth
Apply from HERE
Application deadline
Early bird

31st July,2023(Mon)(JST)

Final

29th September,2023(Fri)(JST)
Basic Booth Plan
Exhibition Cost
Category Zone Exhibitor
Early Bird (by July 31):
JPY430,000/booth
Final(by September 29):
JPY500,000/booth
*overseas exhibitor Processing fee, JPY4,000, will be charged.
*10% consumption tax will be charged.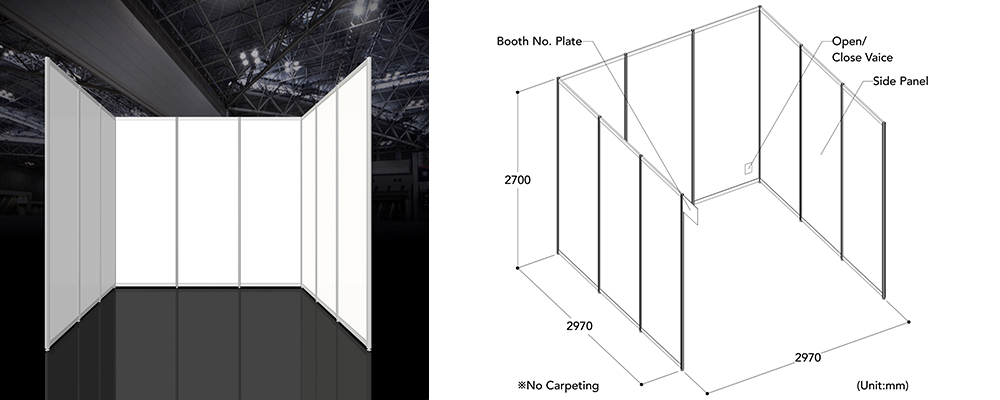 Booth Constructor: Exhibitor needs to decide.
Items include:

Floor space
Electrical wiring work for 100V / 300W
(Electric outlet is not included.)
Side and Back partitions.
Note

Exhibitor is responsible for stand construction, carpeting and equipment rentals.
Exhibit Zone
FOODEX Frozen
Exports from Japan
Plant Based /Alternative Food
Imports Food
Drinks,Alcohol & Wine
Processed Food
Agricultural Food
Meat
Seafood
Condiments/Seasoning
Local Specialities in Japan
Sweets & Snacks
Organic & Wellness
Publication/Consultant
Exhibits
Please check the Exhibits below.
Food

Agricultural Products
Breads and Cereals
Confectionery
Dairy Products
Delicatessen
Dietetic Products
Eggs and Poultry
Food Oils
Frozen Food Products
Fruits and Vegetables
Herbs and Spices
Ingredients
Meat and Meat Products
Organic Products
Seafood
Seasonings and Condiments
Soup Stock
Washoku
Frozen
Plant Based / Alternative Food

Beverage

Beer
Brandy
Liqueurs
Spirits
Whiskey
Wine
Coffee and Tea
Fruit Juice
Mineral Water
Soft Drinks

Other

Transportation Services
Books
Magazines
Newspapers